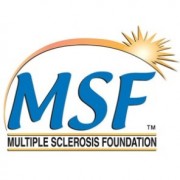 Two national MS organizations team up to promote official Relapse Awareness Week
FORT LAUDERDALE, FL, March 22, 2016 (Newswire.com) - ​The Multiple Sclerosis Foundation and Multiple Sclerosis Association of America are teaming up to promote MS Relapse Awareness Week, March 21 – 27, 2016, with support from Mallinckrodt Pharmaceuticals.
Relapsing MS is a challenging and unpredictable disease. "A person with relapsing MS may be well one day and severely disabled the next, with no indication as to what brought on the relapse or when it will remit," Natalie Blake, Director of Program Services for the Multiple Sclerosis Foundation said. "To maintain quality of life, it is important for those with MS to understand how to prepare for, manage, and recover from relapses."
"To maintain quality of life, it is important for those with MS to understand how to prepare for, manage, and recover from relapses."
The Foundation is hosting a national teleconference, Everything You Need to Know About MS Relapses, on March 22nd at 8:30 p.m. EST, presented by MS specialist Daniel
Kantor
, M.D. (To join the teleconference, participants call 888-550-5602 and enter code 23441168.) On March 24th, Dr.
Kantor
will deliver the presentation again at a live program in Fort Lauderdale, Fla, which will be filmed and made available on the Foundation's
YouTube
channel at www.youtube.com/user/
MSFstaff
.
Popular MS blogger Matt Cavallo will relate his personal experience with relapses in a web-exclusive article on MSFocusMagazine.org, and others with MS will offer their insights and tips learned in previous relapses through the Foundation's social media channels, using the hashtag #mymsrelapse. MSFocusRadio.org will feature a theme week including material related to relapses. MSF will also share information about the MSAA's special Relapse Awareness online resource center for relapses, found at http://relapses.mymsaa.org.
Interview opportunities are available. Learn more about the MSF or MS at www.msfocus.org. Tune into MSFocus Radio at www.msfocusradio.org or download the app for Android or iOS devices. Find MSF on Facebook at https://www.facebook.com/MultipleSclerosisFoundation/, Twitter at https://twitter.com/ms_focus/ and Instagram at www.instagram.com/msf_staff/.
The Multiple Sclerosis Foundation is a leading publicly funded non-profit organization with national headquarters located at 6520 N. Andrews Ave., Fort. Lauderdale, Florida. Since 1986, the MSF is dedicated to providing a wide array of free nationally accessible programs and services designed to improve the quality of life for those affected by MS.
Share: