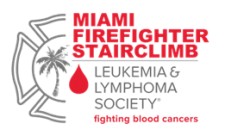 Firefighters Physically Challenge Themselves in an Effort to Fight Cancer
Hollywood, FL, December 6, 2016 (Newswire.com) - The South Florida Chapter of the Leukemia & Lymphoma Society will debut its Miami Firefighter Stairclimb, where firefighters (no civilians) from across the world will travel to Miami to test their endurance in a stair climb challenge. The event will take place on Sunday, January 22, 2017 at the Miami Tower in downtown Miami.
"Firefighters are exposed to numerous cancer-causing substances and a wide range of carcinogens through their work. Due to their jobs, they have a 68% higher risk of being diagnosed with cancer than the general population," said Executive Director DeAnn Hazey, CFRE. "We hope this event will help to significantly raise awareness within the first-responder community and funds to continue providing life-saving research and patient support."
The Miami Tower is one of the tallest buildings in South Florida, standing at a height of 625 feet tall. The Miami Firefighter Stair-climb is the first initiative of its kind and requires 1,000 full bunker gear firefighters to climb the 47-flight building. The event supports the mission of the Leukemia & Lymphoma Society (LLS), raising money through sponsorships, individuals, and department fundraising.
Participants are encouraged to fundraise a minimum of $300 in order to participate in the challenge. All proceeds will go toward LLS research, patient services, advocacy, public and professional education, and community services.
Event Day Information:
Date: Sunday, January 22, 2017
Location: Miami Tower- 100 SE 2nd St, Miami, FL 33131
Time: 8:00 a.m.
Registration Fee: $60.00
Fundraising Minimum: $300.00
To learn more about the event and to register, please www.lls.org/miamistairclimb.
About The Leukemia & Lymphoma Society
The Leukemia & Lymphoma Society® (LLS) is the world's largest voluntary health agency dedicated to blood cancer. The LLS mission: Cure leukemia, lymphoma,and multiple myelomas and improve the quality of life for patients and their families. LLS funds lifesaving blood cancer research around the world provides free information and support services and is the voice for all blood cancer patients seeking access to quality, affordable, coordinated care. Founded in 1949 and headquartered in Rye Brook, N.Y., LLS has chapters throughout the United States and Canada.
To learn more, visit www.LLS.org. Patients should contact the Information Resource Center at (800) 955-4572, Monday through Friday, 9:00 a.m. to 9:00 p.m. ET.
Source: Leukemia & Lymphoma Society
Share: