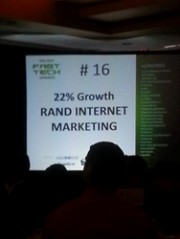 South Florida Business Journal Announces Fort Lauderdale Web Design & Internet Marketing Company as One of 2014's Fastest Growing Technology Businesses
FORT LAUDERDALE, Fla. / October 28, 2014 - Rand Internet Marketing has been recognized in this year's Fast Tech Awards as one of the fastest growing technology companies by the South Florida Business Journal (SFBJ).
The Fast Tech Awards acknowledges companies that are making their mark on this ever-changing industry. Companies are ranked by percentage growth of annual revenues from 2012 to 2013. These awards are presented to companies based in South Florida that create advanced technologies, provide IT solutions and services to businesses, and achieve positive results for clients.
"We attribute our growth to the hard work of our staff, the loyalty of our valued clients, and the success of our web design, web development and internet marketing efforts on behalf of our clients," said Seth Rand, Founder and CEO of Rand Internet Marketing.
"We recognize the need for our clients to have a strong online presence including top results on Google from SEO efforts; expansion within the realm of social media; and to have a mobile responsive website designed and developed for their businesses. We've chosen to specialize in responsive Magento e-commerce web development to complement our expensive WordPress web design portfolio. In addition, while our foundation as a company was built on the success of our search engine marketing department, including SEO and Google Adwords PPC, social media marketing has been a huge part of our growth this last year."
The 2014 Fast Tech Awards were presented at an event held on Oct. 23 at the Hyatt Pier 66 in Fort Lauderdale. These awards were sponsored by Comcast Business, Daszkal Bolton, Florida International University College of Business, Synechron, and TriNet.
About Rand Internet Marketing
Rand Internet Marketing, a division of Rand Business Services, offers professional design and marketing services including logo design, graphic design, website design, web development, search engine marketing, and social media marketing. Rand specializes in professional responsive web design and development including WordPress websites and Magento e-commerce websites, mobile site design and development, search engine optimization (SEO) and pay per click (PPC) marketing. Rand also offers video production, printing, reputation management, photography, merchant services and a variety of other professional business services.
If you are in the market for a new website, or looking to generate more leads and sales through internet marketing, let the Rand Internet Marketing team help you design an integrated strategy that will help your business succeed.
For more information, call 888-707-RAND or request a consultation online at http://randmarketing.com/request-consultation/.
Share: